As part of my week-long birthday celebration, today I will again consider an aspect of aging. Namely, at what age do we start to choose function over fashion? Now, I can already see my sister collapsing in a fit of laughter at the mere mention of fashion from
moi
. She's thinking,
"Haven't you always chosen function over fashion??"
Touche, I reply. I'm not exactly en vogue. Though all the french words I've managed to work into this blog post should count for something.
One lovely aspect of aging is the confidence that comes with it. The chutzpa to throw caution to the wind, to speak your mind, to take no crap, to wear sensible shoes! Ah sensible shoes. At what age do we start to think these are acceptable?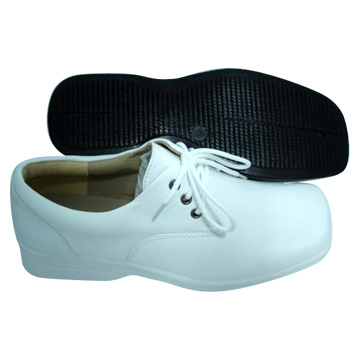 And how about those plastic sunglasses that practically wrap around to cover the eyes in the back of your head? If I ever become so sensitive to light that I need these on a daily basis, someone please lock me indoors for my own safety (by the way, these are the same glasses my dentist makes me wear to avoid flying pieces of oral shrapnel):
And then there's the saran wrap head cover. When an umbrella is just too much, there's always this beauty:
While I'm sure each of these fashion nightmares serves some kind of medical or practical purpose, I'm just praying that I never reach the point where I find it acceptable to wear them in public. Along these lines, here's hoping I never:
Get accused of being a "Sunday driver"
Become afraid of being out after dark
Shrink to the point where I can't see over my steering wheel
Think it's acceptable to not wear my teeth (naturally, I'd prefer to not have removable teeth, period)
Call young people "whippersnapper"
Stop bathing
Now, feel free to share your own "I hope I never" elderly stereotypes and fashion faux pas so we can all have a good laugh at the people we will some day become!
Disclaimer: Having said all this, let it be known that some of my favorite people in the whole wide world have been 80+ and I mean no offense. Of course, if you're among my elderly readers, you probably can't read this small print, and my apology is for naught.